Lao Community Cultural Center San Diego
2016 Lao Boat Racing Festival Fundraiser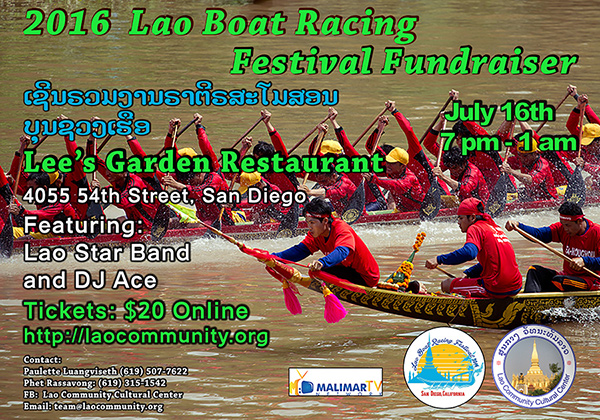 Thanks for Supporting
2016 Lao Boat Racing Festival Fundraiser
Online ticket sales are closed.
Select the quantity of tickets you want and click "Get Seats." Eventbrite will recommend seats or you can pick which ever seats are available. Be sure to include an email address at which you will receive your tickets.
You can order tickets on your smart phone or tablet but you will only be able to select your seats on a PC desktop or laptop.
Please print your tickets and bring them to the event.
Lee's Garden offers food and beverages for sale including full dinners and appetizers.
100% of the proceeds from this fundraising event will go to support the 3rd Annual Lao Boat Racing Festival on September 10, 2016. Click Here for Details.
For questions or help ordering tickets, please call or text Kasey Kunstmanas at 858-735-8213

Thank You San Diego For Your Strong Community Support.
Lee's Garden Restaurant
4055 54th Street
San Diego, CA 92105 map
(619) 583-8208

July 16, 2016 7 pm --> 1 am
Entertainment includes Lao Star Band and DJ Ace.
Supporting the 3rd Annual San Diego Lao Boat Racing Festival - September 10, 2016

Ticket Refund Policy
100% refund before July 1st
50% refund before July 15th
No refund after July 15th